SPEAKING/EXHIBIT TOUR COMING 2024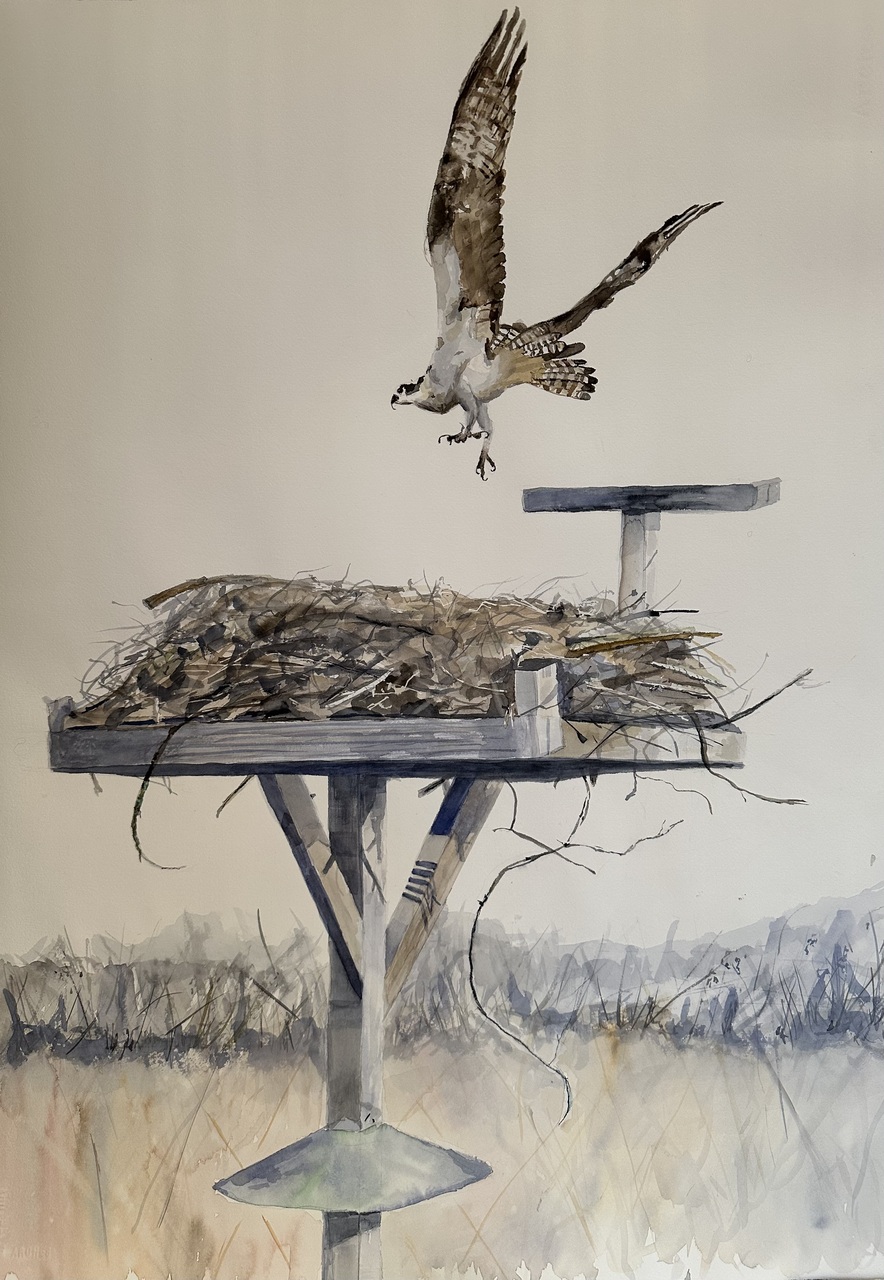 CONFIRMED 2024
WESTPORT ART GROUP Zoom Presentation Tuesday March 5
DARTMOUTH NATURAL RESERVE TRUST Thursday, March 21 630-8pm (Fundraiser/Talk)
WESTPORT LIBRARY Solo Exhibit April 2024. Talk: Thursday 4/25. 630-730pm
MASS AUDUBON BOOK LAUNCH/ FUNDRAISER TBD May 2024
BRIDGEWATER LIBRARY Solo Exhibit Watercolor/Photography Month of July 2024
WESTPORT RIVER WATERSHED ALLIANCE TBD
CHAPPY CENTER CHAPPAQUIDDICK July 17, 2024 4-5pm

BARRINGTON LAND TRUST TBD
AUDUBON SOCIETY OF RI TBD (May 2024)
TAUNTON RIVER WATERSHED TBD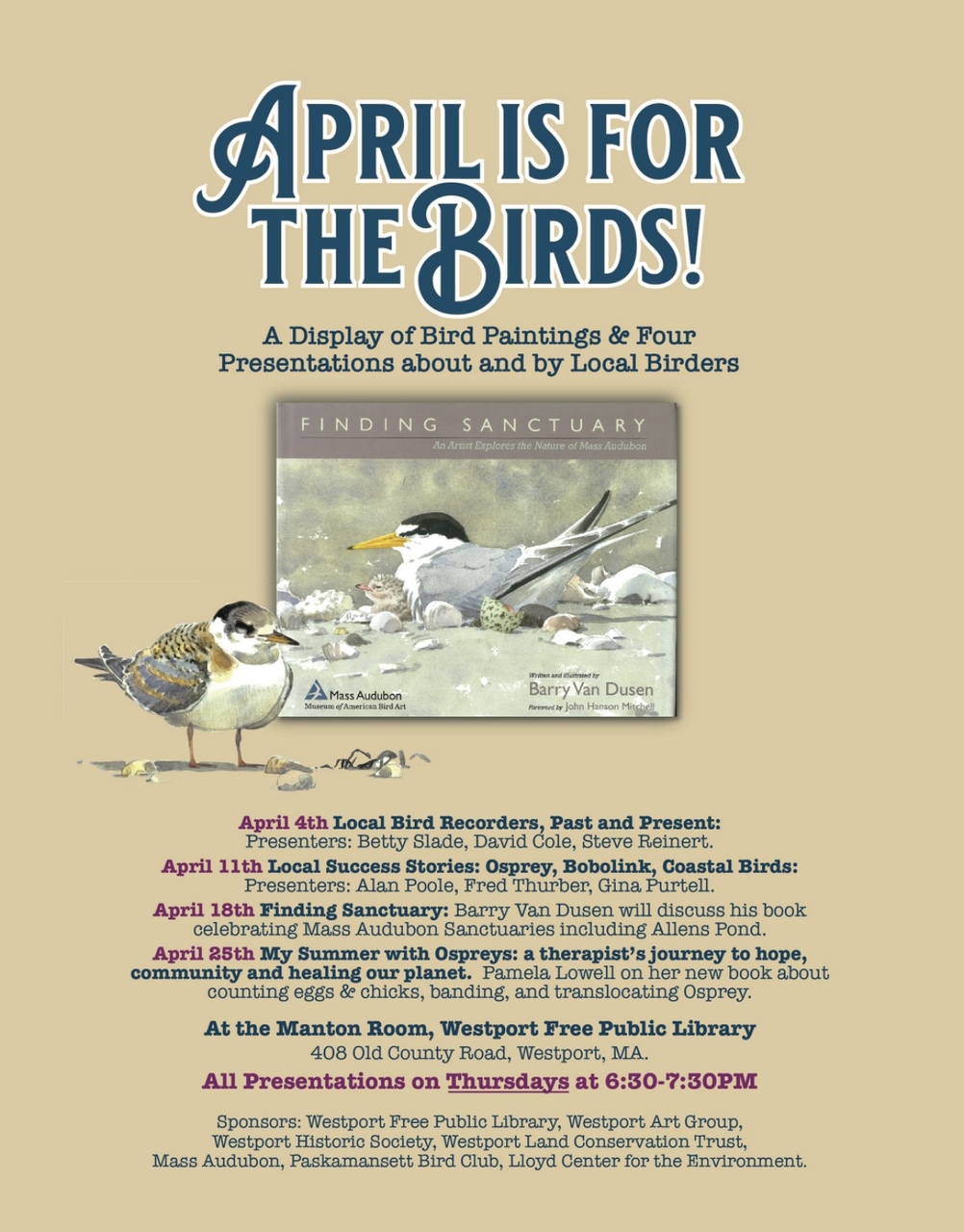 WISH LIST SPEAKING ENGAGEMENTS (Someday. . .)
SOUTH COAST ARTIST'S MEETING
DARTMOUTH LIBRARY
THE READING ROOM
CAPE COD MUSEUM OF ART
UNIVERSITY OF ILLINOIS (with Dr. Ting!)
SOUTHCOAST ALMANAC WALKIING BOOK CLUB
ANY
AUDUBON CHAPTER
ENVIRONMENTAL YOUTH CONFERENCES
BIRDING CLUBS
BOOK GROUPS
ART CLUBS/ASSOCIATIONS
NATURE CONSERVANCIES
INDIE BOOK STORES
LIBRARIES! WHOOO! LIBRARIES THANK YOU!!
BIGGEST WEEK IN AMERICAN BIRDING
RAPTOR WEEKENDS
CAPE MAY BIRDING CONFERENCE
CAPE COD BIRDING CLUBS
SCHOOLS OF SOCIAL WORK (RUTGERS/RIC)
THERAPY CONFERENCES (only if I have to ha ha)
SY MONTGOMERY (PLEASE DO A TALK WITH ME)
PLACES I HAVE FRIENDS/FAMILY WHERE I'D LOVE TO DO A TALK
FLORIDA (I know)
MAINE
VERMONT
NEW HAMPSHIRE
CONNECTICUT
BOSTON/CAMBRIDGE/
CAPE COD/ISLANDS
NORTH CAROLINA
NEW JERSEY
VIRGINIA/DC
PENNSYLVANIA
RHODE ISLAND
THAILAND (true!)
Previous Workshops. (TRAUMA, PARENTING and ADOPTION) 
2017
Rhode Island College
EMDR and Trauma Evidence Based Treatment
Genograms and Family Formation Adoptive and Foster Families
2015
Sexual Exploitation and Trafficking of Kids in Care: Ethical Considerations for
Front Line Providers. Rhode Island College. March 2015 Co-Presenter
Women and Divorce. Co-Presenter with Cheryl Ethier. March 2015
Rhode Island College Adoption Certificate Program. Genograms and Family Formation
October 2015
2013
Kickimuit Middle School: How to parent your nasty, sneaky , lazy lovable teen April 2
Parenting Matters
Barrington High School
April 6
Bradly Hospital Speaker Series (with Leah Berg)
April 12
Increasing Permanency Outcomes for Children in State Care
2012
How to Parent your nasty, sneaky, lazy lovable ADOPTED teen
Adoption Rhode Island Feb 7
Parenting your nasty sneaky lazy lovable
pre-teen or teen
Parenting Matters Conference
Barrington High School March 17
Pathways to Permanency: Engaging Older Youth to Achieve
Positive Outcomes. April 11-12th
Michigan State University
Communities For People
Foster Parent Training
April 19th

Past Speaking Engagements
February 6, 2011
Teens: Sex and Dating
Congregation Agudas Achim
Attleboro Rhode Island
March 19
Parenting Matters Conference
Barrington High School
April 1-3
Maine Festival of the Book
Portland Maine
www.mainereads.org
(With Julia Glass)
April 6
Allen Coventry Middle School
Parent Support Network
April 9
Making Connections
Adopted Kids, Teens and Families
Parenting Workshop
Adoption Rhode Island
October 19-20th
Think Tank Adoption and Foster Care
Presenter: Pre-post Adoption and Family Therapy a Clinical Perspective
Cleveland, Ohio
October 29th
Children's Book Festival
Barrington Books
December 23rd
Elmwood Community School Providence RI
TRAUMA DRAMA
Understanding how the Brain is Impacted by Trauma
Interventions that work in schools with Teens and Pre-Teens
2010
The Opposite of RAD
Forming Healthy Attachments in Families
Adoption RI
La Salle Academy Honors Night
Protect it, Use it or Lose It
Getting the Most Mileage Out of Your Teen Brain

Parenting Matters sponsored by Bradley Hosptial
Barrington High School
How to Raise Out-of-Control Teenagers
Empowering parents to restore respect, love and sanity to their
families
ADOPTION COMMUNITY OF NEW ENGLAND
The Perfect Storm: Weathering the turbulent adolescent years with your adopted pre-teen or teen
Lincoln High School and Middle School
Sponsored by
Lincoln Task Force on Substance Abuse
USE IT OR LOSE IT. How to make the most
out of your teen's amazing, changing yet vulnerable...brain.
A workshop for smart parents and their very awesome teens.
La Salle Academy
VISITING AUTHOR'S GRANT 2010
ACONE RHODE ISLAND TEEN CONFERENCE
Featured Presenter
BOOK EXPO AMERICA
NEW YORK CITY
NARRAGANSETT HIGH SCHOOL
SPORTS NIGHT
PRINCETON CHILDREN'S BOOK FESTIVAL
RHODE ISLAND COLLEGE
Continuing Education
They are Teens First(The not so secret lives of foster and adopted teens)
Adoption Rhode Island:Book Club for Teens
ACONE "TRAUMA DRAMA" Identifying and treating traumatized teens.(Adoption Community of New England)Professional Day
Westborough MA April 2008
Community Action Foster Care Training
Woonsocket
LaSalle Parent Night
READING WITH ROBIN 866-920-WHJJ (920AM)
Tannerhill Adoption Agency
Rhode Island College Social Work Class
St. Mary's Foster Home Staff and Foster Parent Training
MOMTALKRADIO 2006
GORDON INDEPENDENT SCHOOL in Providence, RI
Wed. Jan. 24
Gordon's Book Fair
Tea With Marie Channel 13 RI
At Providence College Social Work Class
The Resiliant Child Series ADOPTION RHODE ISLAND
Barrington High SchoolBlogging and Podcast
NATIONAL FOSTER PARENT CONFERENCE WASHINGTON DC 2007
BookExpo America (BEA)New York City
Connecticut Association Foster Parents June 2007
Barnes and Nobel Warwick RI
Author Series Philips Memorial Baptist Church
Caritas Dinner and Silent Auction Keynote
"Let's talk Adoption" Conference
Rutgers University
NJ Author Talk Bayview Commons
Bayside YMCA Author Book Club